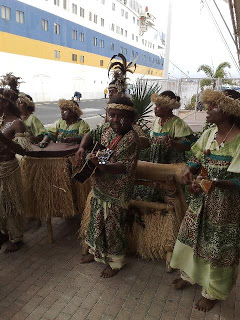 We received a wonderful welcome when we arrived in Noumea this afternoon.
Liz and Emma both had anti-seasickness injections, and were feeling alot better, which made the
tours of Noumea much more enjoyable.
In case you're wondering, the injections started working after about 30 minutes. They lasted 8
hours, but the doctor gave Liz some tablets to take as well. The total cost is about $90 which we
can claim on travel insurance.