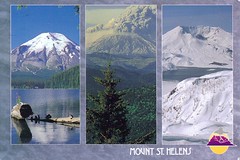 Mount St Helens
Originally uploaded by MagicTyger

A postcard received via Postcrossing from Mary in Washington State, USA.
Mt St Helens is a volcano that errupted in 1980.
Mary says she used to swim in the lake on the left as a child when she camped there with her family.
Thanks for the lovely postcard, Mary!