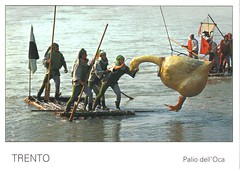 Feste Vigiliane, Italy
Originally uploaded by MagicTyger

A Postcrossing Postcard from Luca in Trento, in the North of Italy.
The Vigiliane Festival occurs on the Adige River, in Trento, which is in the Dolomiti Mountains in the North of Italy.
At the end of the festival, rafts of contestants from each of the ten city districts of Trento try to ensure that they are first to get the ring on the neck of the goose.
Sounds like a lot of fun!
Thanks Luca!