I've been camping before, and I've done multi-day bike rides before, but I've never done both. "Bikepacking" is "Backpacking" on a bike, and it's completely new to me.
Here's the story of my first attempt. I've included a summary of my discoveries at the end of the article.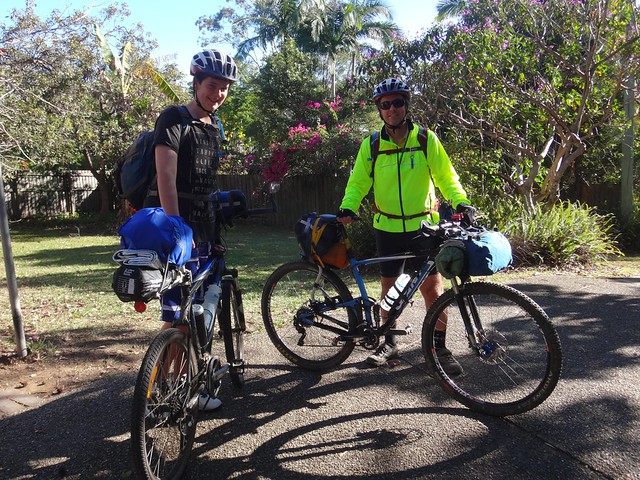 As with most first-time experiences, my plan was to keep it simple, minimize risks and have fun.
The challenge with Bikepacking is that while you can travel a long way under your own power, you can't carry much gear – only what you can fit on the bike or on your back. So it's important to pack light.
I started by asking my more experienced friends lots of questions. What sort of gear did they use? How did they carry it? How comfortable was it?
Although I received some great advice from a few experienced campers, I couldn't afford to buy all of the equipment I didn't already have.
So I borrowed a tent, sleeping mat and pannier rack from a couple of generous friends, and bought a couple of good quality sleeping bags online.
I also did a trial run in the back yard the previous week, just to make sure it all worked. During the trial run, I decided at 3am that the ground was too hard, and came back inside to the tempting softness of my bed. It's a bit hard to "come back inside" when you're camping, so I decided comfort was important to me, and borrowed a better mattress from a friend.
I thought Harrison might enjoy the experience too, so I selected a familar spot, close to home. That way it wasn't too far for him, and if anything went wrong or it was too much, we could bail-out and come home.
So we set off, along familiar paths, in the middle of winter (does South-East Queensland ever really have winter?) to our chosen spot.
A little over an hour later we started setting up camp. I pitched the tent and inflated the mats while Harrison found a few old bits of dead wood for a small fire to keep us warm.
The sun sets quite early this time of year, so we changed in to warm clothes while we still had daylight, and prepared for dinner.
With no TV or computers to distract us, we opened a packed of crisps and enjoyed the fading light as we talked about whatever crossed our minds.
The cold westerly winds whipped across the water, but the fire kept us warm.
There aren't many restaurants around that would give you a view like this while you ate your dinner.
It was pitch dark by the time we finished dinner, so we cleaned up and went to sleep at the ridiculously early time of 8pm.
Despite retiring early, we didn't get up till about 7.30am. I find it a challenge to sleep on a mat on the ground in winter, so I made up for the broken sleep by getting up late.
As with the day before, Harrison foraged for more dry fire wood while I got breakfast ready.
We cheated with the fire and used a bit of methylated spirit to get it started.
My little metho stove quickly boiled the water, and I was soon enjoying fresh plunger coffee from a combined plunger and cup that thoughtful friends Robert and Nerida had given me as a present. (Thanks guys – it's perfect!)
After breakfast we packed the bikes and rode back home having only been gone a little over 19 hours.
Here's a brief summary of the experience – hopefully it will help others in a similar situation
What Worked Well
Getting advice from more experienced friends.  They had done it before – I could learn from their mistakes.
Borrowing more expensive items from kind friends.  This reduced the budget.
Borrowing a good quality air matress.  This was much more comfortable than my original "budget" matress.
Buying a good quality sleeping bag.  My friend Andrew suggested a Deuter Exosphere +2.  I got it at a good price.  It was light, comfortable and warm.
Doing a trial run of my equipment in my back yard before the big day. I knew what to expect.
Making my first bikepacking trip close to home. This made it easy to bail-out.
Taking a metho stove.  It was light, cheap and easy to use.  The metho helped me light the campfire too.
Taking a cheap head-mounted torch.  This sat on a band around my head, lighting up whatever I was looking at while both my hands were free.
Putting a silver reflective car windscreen shade on the ground under the matress, silver side up.  (Thanks Paul for this advice)  Sunshades are light and cheap.  They're also great insulation from the cold ground.
Taking good quality dehydrated meals.  We bought a couple of "Back Country Cuisine" meals.  All you do is tear them open, pour in boiling water and wait ten minutes.  They even have desert 🙂
Keeping organized before it got too dark.  It's impossible to find things when it's dark, so we tried to keep everything in its place.  We washed everything as soon as we had finished with it, and put it away when we were finished.
Wearing thermal underwear in the sleeping bag.  Thermals take up little space, and they kept me warm even though it was cold outside.
Taking lengths of old inner-tubes to tie down my load.  I cut the tubes into strips which were strong, flexible and grippy.  The load stayed in place well.
This was a fun experience.  Harrison enjoyed it as well, and it was good to get some quality time with him.
Next time I probably would avoid mid-winter though, no matter how mild it is!