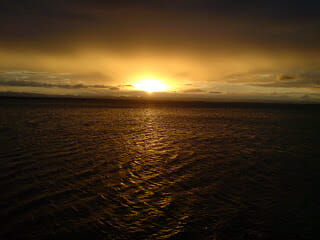 I never thought you'd be able to see the sun set over the water in South-East Queensland, considering the fact that it's on the east coast of Australia.
I took this photo of the sunset from Scarborough on the northern tip of the Redcliffe Peninsula across the road from the Marina, looking north-west over Deception Bay.
It's much more picturesque when you see it with your own eyes – the Glasshouse Mountains off to the north (not visible in this photo) look spectacular.
I can't think if many other places in the area where you can see sunsets over the water like this from the mainland.
Well worth the effort!